About 3 years ago I joined a book club through a dolls house magazine. The free gift for subscribing was the house I have used for my witch's house. To be honest the house was extremely basic, it was made of very thin ply, was warped in places and was a slot and tab house which meant there was a lot of filling and sanding needed once it was glued together. For a long time it sat on a shelf as I had no idea what to do with it, until inspiration hit and I decided to do a witch's house. After a little research I had an overall plan and a long list of items I should include. The following photos show the finished project.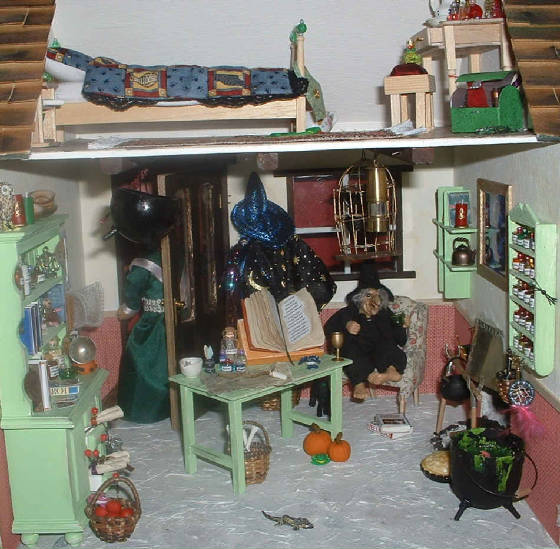 This is the overall inside of the witch's house. The witch who lives there is sweeping while her guest is sitting drinking butter beer and getting rather tipsy.
| | |
| --- | --- |
| The witch sweeping in the doorway of her house. She was a doll I bought whilst on holiday in Amsterdam for about 2 euros, which I redressed. | I made this fantasy climbing rose using twisted wire covered in paper, I added leaves which I punched from tissue paper I had painted in a mixture of greens. The flowers are a small bead with individual petals attached made from tissue paper punched from a hole punch. |
This shows the witch's bed. For people who ask how she gets up there as there aren't any stairs I tell them by magic! The bed was made from a project in
Dolls House Miniature Scene Magazine
. I made all the bedding myself. The bedside table has been made from lollipop sticks. All of the books and pictures you see in the house have been made myself using pictures from the internet. The carpet was a souvenir from Turkey. I made the handbag from a piece of stiff faux leather and a trimming from tee pee crafts.
This picture show the other side of the witches bedroom. The dressing table was made using lollipop sticks and stair posts for legs. The perfume bottles were made using beads and the tray was bought from tee pee crafts. The picture is of Gilderoy Lockhart, any Harry Potter fans will know he is the best looking wizard ever! I made the stool myself from some offcuts of wood. The frog is a white metal one painted, as you can see he is wearing a crown...
The small green trunk at the front of the picture is the one my witch takes to work, it was bought from
tee pee crafts
and painted with acrylics. It is hard to see in the picture but it contains all the things she needs for work such as scrolls, potions, ingredients, spell books etc..